Rabenstein Castle, not to be confused with Rabeneck Castle. Located in Franconian Switzerland, more precisely in the municipality of Ahorntal. Once you have reached Ailsbachtal, it is not difficult to find the castle.
A road leads through the Ailsbach valley, in which the municipality of Ahorntal is also located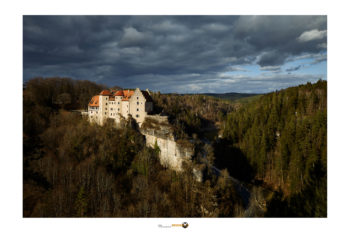 Wiesental. If you stay on this road you will never miss the castle.
She stands prominently on the rock and has been since the 12th century. It has been destroyed here and there. However, the location has not changed since it was built.
Destroyed in 1450 first Margrave War – rebuilt in 1489
Destroyed 1618 -1645 Thirty Years War – Partial restoration 1648 -1728
For more than 800 years now, Rabenstein Castle has stood in one of the most beautiful valleys I know in Franconian Switzerland.
In the meantime, the future of the castle has been secured for a long time. Unless the current lord of the castle starts an argument with his neighbor. That was a joke, of course.
As a guest at Rabenstein Castle, you can take part in castle tours today. Host weddings, families and corporate parties. Rabenstein Castle also offers overnight accommodation.
Twice a year there is a medieval market at Rabenstein Castle. Action artists, jugglers and craftsmen take you back to the Middle Ages. I think you don't have to be a fan of the Middle Ages to be carried away into this time.
If you are not into the event and gossip and do not like to be in the crowd, you can escape everyday life in the Ailsbachtal. Nature, hiking and climbing fans can move away from the main road through the almost unique landscape. Horizontal and also vertical.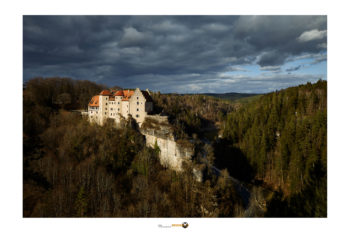 Hiking maps for Franconian Switzerland
For more information just follow
this LINK (link follows)
there you will find all articles about the Ailsbachtal!
There is so much to discover.
Thank you very much for reading and dropping by FernwandererX.de↗
Please leave me a comment!
or do you have another question !? 
Simply put it in the comment box. 
Or browse the categories: 
Tour reports – test and reviews – CouchZeit –
Outdoor knowledge – landscape  photography
So as not to miss a post
Follow me on   Twitter https://www.intercultural-reflections.de/character-n/index.html ↗ , ↗  Instagram↗ ↗ and YouTube↗ ↗
or Facebook↗ ↗ (not regularly)