Reading Time:
4
minutes
The cows in the valley
A story from the Lechtal Alps in 2014
Get up at dawn. The weather is OK, fresh, but it will tear. Good prospects for long-distance hiking trail E5 alternative route No.1! Holzgau to Ansbacher Hut. However, this approach also means doubles way as to cover regular. As Franke I had to go there but.
Returns a jump:
In 2014, I took to walk to Merano before self-sufficient of Oberstdorf. Self-sufficient in form: No taxi, no hut, even cooking and of course also carry everything yourself.
THe tour had it in them! By foot from Holzgau to Bach is so relaxing as a White Out in swimming trunks … It was Stupide on asphalt through the valley along the Lech (taxi route). Once in Bach it is on gravel forest roads along to the junction Memminger Hut <> Ansbacher Hut. Those who choose the left path will not be able to escape the full E5 bustle. However, anyone who chooses the right path will find peace and impressions that he will not soon forget. But remember please that this path further and higher leads up (Flarschjoch to 2464m). I'm still very glad I went this way!
Pretty much in the middle of the road but it was formative and unforgettable. A valley constriction at Alper Schonbach forced me to an unexpected break. Four days before I started my tour a incident that has been burned into my head occurred. A woman died while hiking through cows. Although this lady had a dog with him was probably the trigger for the mother cow, go off on the person and their dog.
Slowly, I walked the narrow way along the Alper Schonbach. This snaking along a wall. Links in the Alps Schonbach in four feet of water right, a high wall. A gentle curve, the valley behind it was not visible. Zack! Since the herd standing. Links of Bach right the wall in front of me the flock. Cows, bulls and calves there was the situation. I alone in a valley in which I have met no other people and then a herd of cows with 50 determines animals.
A big boulder (Boulder) blocked the way to the surfaces piece of the stream, narrowing the path to about 1 meter. In this swath of the way grazing and ruminating about half the herd. The mental cinema was already in full swing! What if I go through there. What if the cow just chewing on a thistle and makes me responsible.
Ultimately, I've been waiting for over two hours. Until the herd a little moving and distributing it. THe herd ran me though past but this had I think no evil intent. But my step was faster as usual.
Puuhh thing I sure if I had not been alone an experience I am. If the story differently bleed. So but one of my favorite has emerged photographs. but not perfect with a history connected to I do not forget!
As you would in such a situation respond?
Writes but in the comment what happened to you with cows on pastures and in the valleys.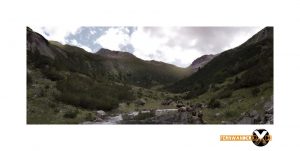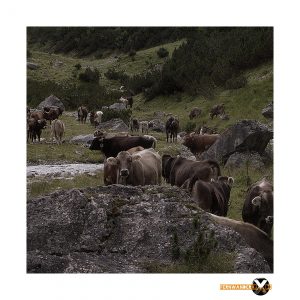 I thank you very much for reading and stopping by to FernwandererX.de
but Just leave me a comment!
Or have a look in the categories:
Tour Reports – Test and reviews – coffee time –
Outdoor knowledge – Landscape Photography
To no contribution to miss
Follow me on
or Facebook