Königssee & St Bartholomä – boat trip St Bartholomä
St. Bartholomä am Königssee who does not know it! Next to Neuschwanstein Castle, Herrenchiemsee Castle is probably one of the most popular tourist destinations. It is understandable because St. Bartholomä am Königssee in the National Park Berchtesgaden faces an insane backdrop. The Watzmann Ostwand one of the longest walls in the Alps
The pilgrimage church of St. Bartholomä
The pilgrimage church is located on the peninsula Hirschau and is thus only accessible with alpine experience or the boats of the Bavarian shipping. Second should be the more comfortable way. As early as 1100 AC, the first chapel was located on Koenigssee. The current chapel of St. Bartholomew was built around 1700 AD. Restored by order of King Ludwig II around 1860 AD
What do you need to know when you drive to St. Bartholomä !?
If you are already in the opposite, take the bus! This is less stressful, especially in the summer and spares you the unique landscape and nature! Your grandchildren will thank you ????  "With the guest card you can use the RVO buses for free !!! ✌???? " Information about RVO buses and guest card  ↗
If you would like to visit the Königssee incl. St. Bartholomä on the transit, there is the car park Königssee / Jennerbahn parking ↗ in Schönau am Königssee . Attention SKI area
Please note that during the boat crossing there is summer (21.04.-14.10) and winter time (16.10.-20.04.)! (Information on timetable information for Bavarian shipping)
The exact departure times of the Königsseeschifffahrt can be found on the  timetable and driving ↗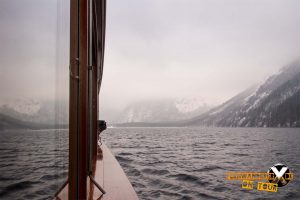 Koenigssee shipping prices
Königssee> St. Bartholomä return 15,00 €
Königssee> St. Bartholomä (or vice versa) € 8.50
Children up to 5 years are free
Children from 7 – 17 years receive 50% on the adult price
* Family discount:  Accompanied by a full paying adult (mom, dad, grandma or grandfather), the first own child / grandchild up to the age of 17 goes to the children's price – all other own children / grandchildren from 6 to 17 years for 1 € each.  
Dogs cost: 3,50 € and are muzzle (fighting dogs are not promoted)
* Source and Current prices can be found at: Lakes Navigation ↗
Hike to the ice chapel at the foot of the Watzmann east wall
In summer the hike to the glacier / ice chapel at the foot of the Watzmann east face is a nice hike! In winter, the ice chapel is not visible and the way from the half is usually not dangerous! 
Here you will find the blog article Hiking to the Ice Chapel 
Still to say is:
The Königssee is a tourism magnet in the National Park Berchtesgaden and so are the prices settled! If you have a family take your drinks with you otherwise it can quickly become very expensive! If you want to escape the mass tourism should get up early and always take the earliest possible boat to St. Bartholomew. Those who have the opportunity to plan their holidays outside holiday periods should take advantage of this. 
BEST TIP to the Königssee!
Below the EisArena on Königssee is the Echostüberl. Humane prices and a fantastic view of the Königssee!
echostueberl.de ↗  Price list is available for download 😉 
More excursion destination and tours I have done
in the Berchtesgaden Alps you find under Berchtesgaden Alps
Thank you very much for reading and see you on FernwandererX.de ↗
Leave me a comment!
or do you still have a question? 
Just in the comment box with it. 
Or browse through the categories: 
Tour Reports – Test and reviews – coffee time –
OutdoorWissen – landscape  photography
To not miss a post
Follow me on   Twitter ↗  Instagram ↗ and YouTube ↗
or Facebook ↗ (Not regular) 
(Visited 272 times, 1 visits today)