Schneeschuhtour – Berchtesgadener Land – Wimbachgries
Reading Time:
3
minutes
Who does not go high, but look for grandiose winter landscape with alpine touch will find it in the Berchtesgaden area. The Wimbachgries embedded by the notorious Watzmann on the one side and on the other hand, the Hochkalter massif. 10 km most beautiful snowshoe tour (even ski) on slightly sloping terrain. However, this tour is only recommended for good conditions in poor conditions can be expected in some places quite avalanche danger.
Start the car park at the Wimbachbrücke ( for the navigation system easy National Park information center Wimbachbrücke specify ).
If you stay in Ramsau can, of course, on foot or by bus to the starting point Wimbachbrücke!
At the Wimbachgriesbrücke the path splits left once over the bridge to Watzmann / Watzmannhaus and before the bridge right to the  Wimbachklamm and  Wimbachgries . Initially, the road takes a short time straight up . This is (not available in winter) only until the end of the Wimbachklamm that. Depending on the season of the forestry road here is still available and must be committed without snowshoes or skis.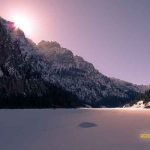 For all the a varied route search which I can only recommend to the semolina (riverbed) to change. A stunning winter landscape with no obstructed view and large river boulders waiting for you. It's best to go yet before sunrise going so you experience the sunrise in Wimbachgries and when the first rays of sunlight is wind in the valley also forgot to get up the morning !!!
Endpoint is either the Wimbachgrieshütte Friends of Nature (closed in winter). Who does not like so far makes (with children, for example) is racing on Wimbachschloss and then returns to, or any point of your choice)
The go to Austria for example Seehorn is possible but this is more for ski touring because for snowshoe hikers!
A few impressions of the snowshoe tour you see the video
while a review of the Hive Nivatus snowshoes
Also read the tour report on the winter tour Watzmannhaus via the normal route
I wish you sunshine good relationships and inform you in advance about the conditions in Wimbachgries!
Tags: Schneeschuhtour,Schneeschuhwandern,Schneeschuhgehen,Schneeschuh, Berchtesgadener land, Berchtesgadener Alpen, Skitour, Wintertour, Kinderfreundlich, Winterwandern, Ramsau,