A natural sensation in the Franconian Switzerland Nature Park. Are the sintering stages or sintered terraces. It is really one of the most beautiful valleys I have ever seen in the Franconian Switzerland. The Lillach characterizes the valley in a special way and makes it a high quality biotope that was also registered and labeled as a natural monument, protected area.
From spring to autumn, there is the unique opportunity to see more than 120 species of butterflies, dippers (red list), beetles, fire salamanders and branch-striped mermaids. I was allowed to observe the dippers myself in autumn!
The path has numerous tables and benches to make snacks and or breaks. The path is well suited for children. However, only halfway with buggy walkable.
Anyone who wants to go to Lillachquelle despite having a stroller or a wheelchair can do so from Lillling. There are no barriers to the source. (Pictures in this article are from Lilling to Lillachquelle)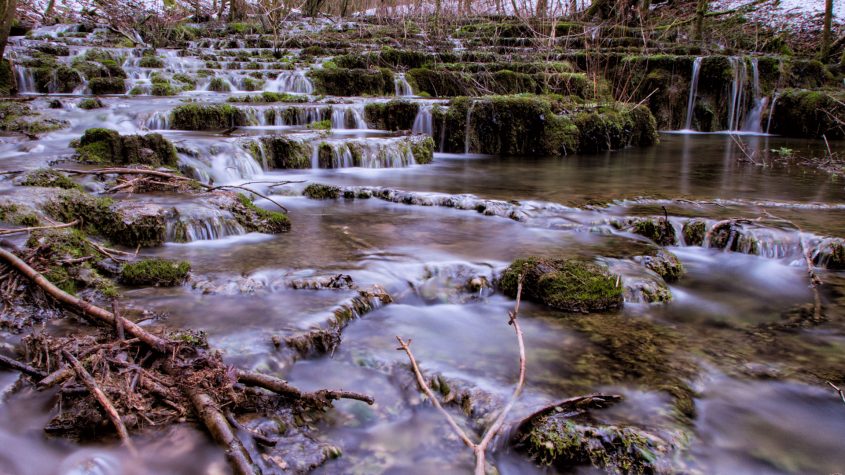 The origin of the sintering stages in the Franconian Switzerland:
… " Sintered stages, also sintered terraces are deposits of porous lime tuff or densely layered lime sinter in a stream or flowing water and, unlike stalactites, form relatively quickly, larger sintering stages being present, for example, in the area of ​​Plitvice Lakes or in Pamukkale.
Branches, stones and branches that have fallen into the water first form small deposits and over time larger barriers in the stream. Over time, these barriers develop into smaller basins, which mark themselves as sintering stages and accumulate the water in a cascade. The stages are mostly educations within the Quaternary …. "
The path to Lillachquelle:
Wanderparkplatz at the station ↗ directly at the entrance B2 is a parking lot
or continue in the town center at Dorfhauser Straße 46, 91376 Weisenohe ↗ .
Along the Lillach, it goes into the sprawling Lillachtal. Passing a small pond chain, the well-developed, signposted gravel road meanders past the sintering stages all the way to the Lillach spring. This route takes about 2 hours without a break. The way is signposted throughout .
If you still have some room to go up, you can continue to Lilling from the Lillach spring to be particularly interesting for the cherry blossom or from the Lillach spring, continue on the "Frankenweg" trail.