Fail … this year I sat down very often deal with the failure.
One can also "fail" to call it.
The failure and collapse is unfortunately very very negative connotations in our culture.
Who is denied useless.
Who has not sixpack is not sporty.
Who does not undergo ultras is not a runner.
And so on …
Since childhood I was told:
"It is dangerous that you can not do, you do not even try"
Nevertheless, the love of the mountains habeich found.
Maybe I should also mention that I am asthmatic. However, this is only relevant in my head. While I feel it when I do not regularly operated me with endurance sports. My lung function can then, but known to build faster as on.
Meanwhile, I was more than 3000 meters creates what nobody of my acquaintance readily. And I've traveled more like 2000 hm up already on the day.
Still, it's me personally not enough for I measure myself only to myself! Because I learn and improve myself! Thus, after the geschafften tour is the next tour planned.
But what about failure?
What if I can not do a tour! then I stop with the strive for the top? Because I did not even manage so this tour?
The next tour is usually a more demanding tour.
THIS YEAR! You read right "this year" a full year. Am I failed tour to all my request. These included personal classics that I have already committed 10 ×, summer and winter tours and new that I want to commit.
A personal favorit my childhood. I would trust me to go in the dark this tour.
This one time it should be different. 80hm before the finish I fought my way through 1.50m to 1.80m snow (estimated, mostly to stop even when the backpack with the sink). I never saw the plateau below the Watzmannhaus as snow blown. It was in the upper part no longer recognizable track and although I was already so often there, the path finding was not possible for me. In addition to 3 different snowshoe on which I had already dropped repeatedly traces a crampon track from top to bottom recognizable. At this I clung to be taught and then agonizing better.
Now deep snow is as long as one does not disappear in the horizontal no problem in it. Vertically, however, if the crampon kick in the picture, it's really a problem.
Some will now "think you have to traverse! ". In retrospect I would absolutely have to take a different approach and just have to keep a clear view.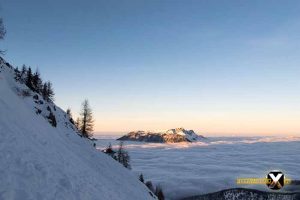 traverse to the right / to the ridge / short climbing place in II. Until III. Degrees / on the ridge to the hut / arrived …
possibility
Starting in the sleeping bag waiting for the first rays of sunshine maintain and run over frozen snow away …
Now that was not so, and I had spent a long day in the snow and I am disappointed and exhausted quality at sunset.
One day after this event I laugh again already and am enjoying the experience earnings depress the great that I had and also that I can also say no again!
When I go touring solo, I'm already set mentally before the tour to most situations. I think a lot about what could happen. Games situations in the head through and grab my backpack after these scenarios. This I have to do because I do not travel by car but by train. Also I go to any hotel but sleep usually under the stars or in bivouacs. If I do not pack elementary objects claim the conditions, I would easily put me in danger.
However, the supreme credo is not to be hurt!
This superior accurate and be prepared to situations that could happen to me, including the teaching of the failure.
The failure to score points where I have to decide on the new one every time if I reverse or play with their lives.
Nothing in my life is as intense as the failure. Nothing impressed me in retrospect as the failure. Nothing gave me greater teaching as the failure.
"Those who fail in may find its size.
He will be lucky to find success. "
This story can be described also live very well on our daily well. Some days you do things right and other days you can no succeed.
But if you can pull the positive from the failure. So the failure is merely an experience that strengthens us in life and increases our experience gives us own wisdom.
In childhood, we must first learn to walk it! How many times have we all landed on the hands before we could be sure in the end on two legs. Free of the moving hands.
We humans have achieved our evolutionary advantage only by findings from the solving of problems. This behavior we should let the benefit of our personal evolution today.
The failure in mountaineering secures only the life of that which is going unsure about his.
"If you have a problem, try to solve.
Can not you solve it, then do not make a problem of it. "
Buddha
"The noblest kind of knowledge is to be gained by reflection and consideration.
The easiest way is which is by imitation and the bitterest kind by experience. " Buddha